IAKI new EP release available now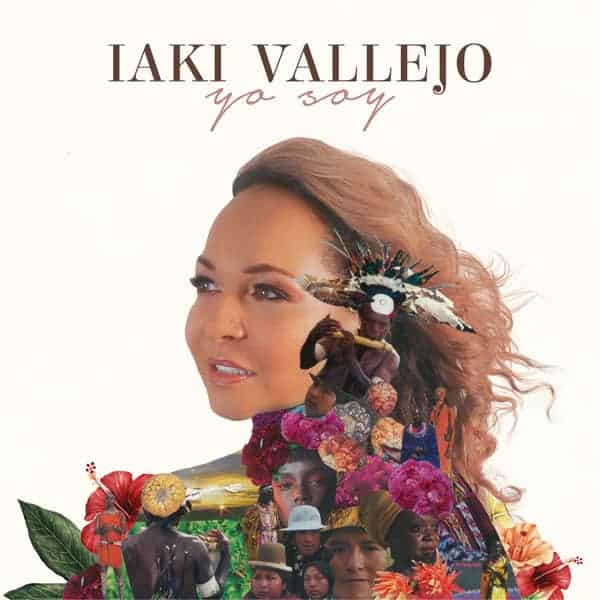 Jazz, reggae y salsa desde Cali hasta Australia. Escuchá lo nuevo de Iaki Vallejo
by calicreativa on February 3, 2020
La cantautora caleña Iaki Vallejo acaba de lanzar un álbum EP titulado 'Yo Soy'. Siete canciones que fueron presentadas oficialmente desde el Bird's Basement, uno de los venues más reconocidos del jazz en Melbourne, Australia.
Iaki Vallejo – "India Soy Negra Soy"
by SleepingBagStudios on April 28, 2019
The international sensation returns to the spotlight & our pages once again! Always an honor to check out what Iaki Vallejo is up to – full disclosure, she's every bit as wonderful behind the scenes as she is in front of the mic – it's always a pleasure to listen to what she's come up with next and see her spirited enthusiasm & exotic sound thriving out there online.
iaki Vallejo and Alexis Play Release New Track "Maria Se Fue"
by Fresh out of the Booth on April 28, 2019
Maria Se Fue is Spanish and translates to Maria Left. The Spanish vocals delivered by iaki Vallejo are in tune with the alive backing track, and the rap vocals offered by Alexis Play are on point as well. The track has a strong tropical/foreign vibe to it that is enjoyable to experience.
by SBS Radio on April 10, 2019
Nacida en Colombia, la cantante y compositora Iaki Vallejo ha estado en un proceso personal y profesional desde el cual realmente ha entendido lo que pueden significar las diferencias humanas.
Iaki Vallejo – India soy, Negra soy
by Solar Latin Club on April 10, 2019
La cantante colombiana Iaki Vallejo presenta su mas reciente sencillo India soy, negra soy.
Una aventura musical, alimentada con sonidos de diferentes paises del mundo, dio como resultado la primera produccion musical de Iaki Valejo.
Desde Australia llega la cantautora colombiana Iaki Vallejo para presentar su álbum debut homónimo
by Colectivo Sonoro on May 15, 2018
Después de muchos años de viajar por Europa y Australia, esta caleña amante del jazz fusionado con ritmos latinos y del mundo, regresa a Colombia para lanzar su primer trabajo discográfico, una producción que se realizó entre Australia y Colombia con músicos de primer nivel.
by Solar Latin Club on November 8, 2016
La vocalista colombiana Iaki Vallejo debuta con una extraordinaria produccion que podría llegar a ser su opera prima.
Radicada desde hace 7 años en Melbourne, Australia, la nacida en Cali decidió apostar por el talento de su ciudad y grabo entre Cali y Australia. Con produccion musical de Cristian Villota, el álbum epónimo hace un recorrido por los sonidos folclóricos de la costa norte colombiana y la música afro-cubana, sin dejar a un lado el jazz y el funk. Musicos con un recorrido importante en la escena musical tuvieron la fortuna de participar de este proyecto: el bajista australiano Evripides Evripidou asi como el saxofonista colombiano Harlinson Lozano y el australiano Paul Van Ross y el conguero Denilsón Ibarguen (Yury Buenaventura) o el trompetista habanero Lazaro Numa entre otros.
by El Parlante Amarillo on August 2, 2016
IAKI nació en Colombia en medio de sonidos de tambores, cantos, danzas y discos de vinilo. En su barrio era costumbre entre los vecinos escuchar música a muy alto volumen casi todos los días de la semana. Las "batallas" musicales entre la gente del barrio se resumían en quién tenía el equipo de sonido más potente y la mejor música del momento. La música es una de las grandes riquezas de su país, es referencia de ser colombiano, así que acostarse arrullado por la música de la calle era algo normal. En su hogar cada miembro de la familia amaba un estilo de música diferente; estilos que influenciaron su carrera artística desde temprana edad. Su padre amaba el tango, su madre el bolero, su hermano la salsa y la balada. Desde pequeña actuó en festivales en su escuela buscando un camino para recorrer, un camino que ya estaba allí para ella, como Iaki lo dice "yo no encontré la música, la música me encontró a mi'.
Margarita / Iaki Vallejo Ft David jones
by El Parlante Amarillo on August 1, 2016
El primer single de su álbum, con arreglos musicales de David Jones, 'Margarita' es una canción dedicada en honor a su madre, quien es inspiración de sus canciones y de su vida diaria.
I didn't find music, it found me
Iaki Vallejo is a Colombian singer who is based in Melbourne. She grew up in an environment where loud music and dance never seemed to ever despair its occupants. From inception, this was what influenced her musical career, which was ignited as early as she was 4 years of age.
As young as she was, she was so resilient in her musical career, as she performed in hotels, festivals, and private parties at her hometown, restaurants, and at her school's singing festivals, in the quest of searching for a music path which she believed was her destiny. She once stated in one of her words that: "I didn't find music, it found me".
La cantautora de origen colombiano Iaki Vallejo, lanza su primer disco el 7 de julio, y estará celebrando con un lanzamiento en Bennetts Lane, en el centro de Melbourne.
Iaki Vallejo – Soundcloud Singles – Singles Review
by SleepingBagStudios on June 29, 2016
There is a pretty inspiring story that accompanies the uplifting world-music rhythms of Iaki Vallejo. When you read about her at her homepage and social-media, you really get the sense that this fine woman has truly followed her dreams with all the passion and heart it takes to succeed in music. Born in Colombia, she's travelled around the globe while finding new inspirations of her own and refining the creative vision of her art & music.
Colombians in Australia: Meet Cali musician Iaki Vallejo
by Sarepa on June 27, 2016
Iaki Vallejo credits the loud stereos that blasted salsa tunes in her hometown of Cali for inspiring her to take steps toward a musical career. Her love of local rhythms and musical styles has taken her from Colombia to around the world. She lived in Italy for more than a decade but now calls Australia home and it is here that she is sharing her Latin routes along with the jazz influences she's picked up along the way. Her self-titled album is set to be released early in July and in the lead up to its launch she sat down to talk to me about her love of Colombian rhythms and the impact they have had on her life. Meet singer Iaki Vallejo.
Iaki was born between the sound of drums, chants, dances and vinyl records in Colombia. She grew up in a hood where the neighbours listened to loud music every day. Music is one of the greatest riches of her nation; it is a reference of being Colombian. Lulled to sleep every night with the street's music was very common.